WhatsApp API Gateway for Entrepreneurs & Developers
Send order notification via WhatsApp from your WooCommerce site, broadcast promotional message to your WhatsApp contact lists, or use our powerful REST-API to send WhatsApp message from your own system automatically.
Unlimited Messages · WooCommerce Supported · Affordable Price
Realtime Message Webhook Demo
Try send WhatsApp test message with hashtag
#demo
to
6289525082133
or click button above then see your message appears on "Realtime Message Webhook Demo" window
FEATURES
Explore All Features of SentWA
It is powerful enough to automate your business flow via WhatsApp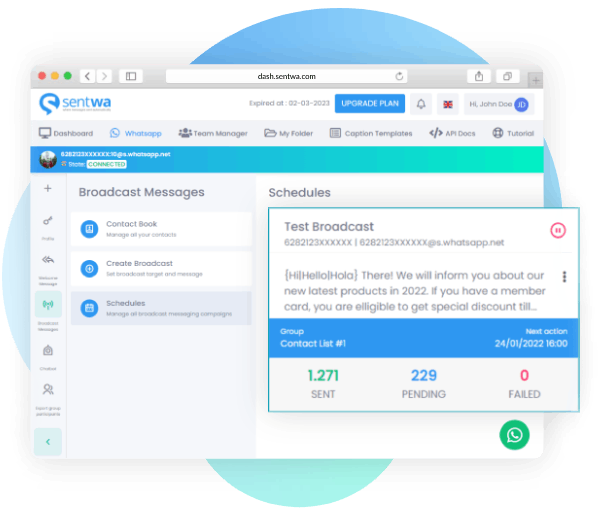 Broadcast Thousand Of Messages Just In A Click
Import contact lists, set message and spintax, pick a time, choose interval between message, and voila! Your messages will be sent safely and automatically.
WooCommerce Integration, Multivendor and More...
Are you an entrepreneur who needs a to-go solution? We got you covered. Just install SentWA plugin on your WordPress site for instant integration.
Multivendor Plugin Integration

Membership Plugin Integration

Booking Plugin Integration

CRM Plugin Integration

20+ Plugin Integrations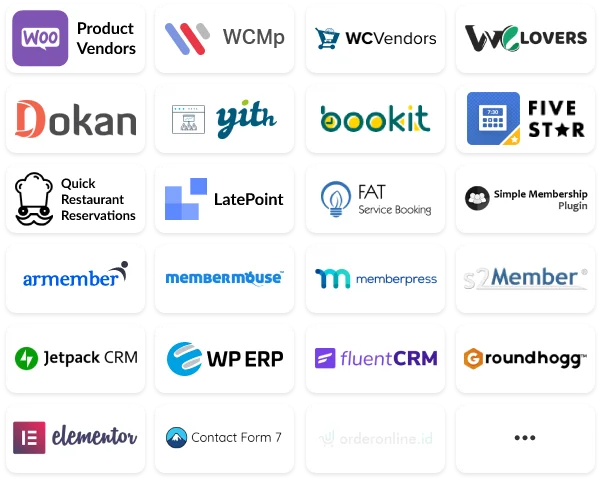 DEMO
SentWA Notification Demo
Try SentWA order notification demo by placing an order on these dummy product
* You will get a new order notification right after placing an order
HTTP-API
Developer Friendly
Integrate SentWA to any system with any programming language through a simple HTTP APIs. Create instance, generate qr code, send & receive message, and many things you can do with SentWA API.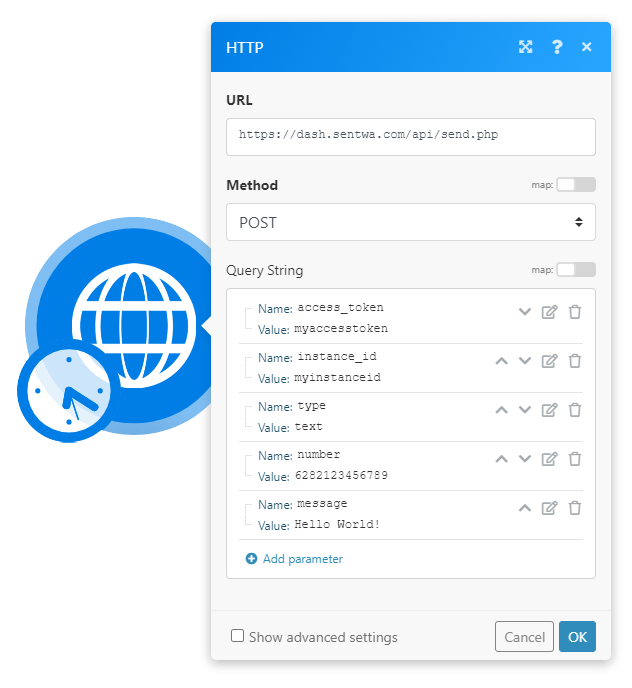 Works Well With Integromat & Zapier
Automate your business with zero code experience by using popular automation tools like Integromat & Zapier. You can integrate SentWA with that tools easily using HTTP module. Create any creative scenario to automate anything is now possible with this tools combination.
Send Messages
Receive Messages
Autoresponder
Unlimited Scenario
PRICING
Choose The Right Plan
Choose the plan that suits you from account based subscription below
WhatsApp Accounts

Number of WhatsApp Acccounts that can be added to SentWA

Text Messages

Access permission to send messages in text format

Media Messages

Access permission to attach media file in messages

Group Messages

Access permission to send messages to group chat

Scheduled Messages

Send messages in specific date and time

Spintax Messages

Ability to spin syntax from lists of text phrases on messages

Messages Quota

Number of messages that can be sent

Text Welcome Message

Welcome message autoresponder in text format

Media Welcome Message

Welcome message autoresponder with media attachment

Text Chatbot

Chatbot autoresponder in text format

Media Chatbot

Chatbot autoresponder with media attachment

Text Broadcast Messages

Send bulk messages in text format

Media Broadcast Messages

Send bulk messages with media attachment

Message Delivery Speed

Number of messages that can be sent per minute

File Storage

Storage size for uploading file (image & video) to attach into messageS

Max Media Size

Maximum size of media that can be uploaded to file storage

File Storage Integration

Import file from Google Drive, Dropbox & OneDrive

API Access

Full featured HTTP API access

Webhook Events

Run webhook every incoming chat

Inbound Text Messages

Receive webhook event notifications every incoming messages

Inbound Media Messages

Get access to media file every incoming messages with media

Contact Books

Number of contact books that can be created for broadcast messages

Contact Book Capacity

WhatsApp number capacity in one contact book

Team Manager

Invite other team to access same dashboard

Caption Templates

Save caption as template for reuse

Export Group Contacts

Export contact number in a group chat

Direct Support

Personal 1-on-1 support chat via WhatsApp

Starter



10 msg / min

Media Broadcast Messages

Beginner



15 msg / min

Media Broadcast Messages

2000

Contact Book Capacity

Super



30 msg / min

Media Broadcast Messages

3500

Contact Book Capacity

Reseller



60 msg / min

Media Broadcast Messages

5000

Contact Book Capacity
FAQ
Frequently Asked
A list of questions and answers relating to SentWA
SentWA is a cloud-based solution that provides automation for WhatsApp to send & receive messages with API. We also provide tools to send messages right from our dashboard and a WordPress plugin to install on your site.
Is SentWA an official API from WhatsApp?
No, SentWA is an independent standalone service not in partnership, sponsored, or endorsed by WhatsApp and Facebook, Inc. 
Our system works by simulating WhatsApp Web on a virtual server instance after you pair it to the system. The system works exactly the same as when you open WhatsApp Web on your computer. The only difference is the system has an automation tool to automate WhatsApp Web for your needs.
Can i use SentWA for my e-commerce site?
Yes, you can use SentWA for your e-commerce site, especially if your site is a WooCommerce based. We have a SentWA WooCommerce plugin for instant integration with your e-commerce site.
What version of WhatsApp app can i use?
You can use any version of WhatsApp, personal or business version but you are required to join Multi-Device Beta for SentWA to work.
Whose number will be the sender to send the message?
Your number will be the sender when you send messages. You are required to pair your WhatsApp account to system before using it.
Does SentWA work in all countries?
Yes, SentWA works with all numbers from any country code as long the number is connected to WhatsApp.
Is SentWA Safe? What about data security and privacy?
Absolutely. Only you and the person who knows the access token & instance id able to control your WhatsApp account. All server instances are generated randomly right after you pair it and destroy itself when you logout it.
Do i have to connect my phone to internet continuously?
No, you don't need to have an active internet connection every time on your phone. SentWA works on Multi-Device mode which means automation will always work even your phone goes offline.
Can i open WhatsApp Web on my computer after connecting it to SentWA?
Yes, SentWA works on WhatsApp Multi-Device Mode which means you can open WhatsApp Web up to 4 different devices.
Can i send broadcast messages to my contact lists?
Yes, you can send broadcasts to your valid contact lists with our broadcast feature. But as you may know, WhatsApp has strict policies about sending unsolicited marketing messages, illicit content, or spam. Sending unwanted messages to users causes the number to get reported and would put your number at a high risk of getting banned.
What programming language can i use for API integration?
You can use any programming language that can perform post request to our API endpoint, such as cURL, httpie, Postman, and many more.
Do i need additional tools to create chatbot?
No, you don't need any additional tools. SentWA has a graphical chatbot builder that you can use to set reply messages based on keywords.
Can i change WhatsApp number in my existing instance?
Feel free to pair and unpair the number on SentWA dashboard. You can do it any time by logging out the device and connecting it to the new one.
What type of media files can be sent?
You can send any type of files like images (JPEG, PNG, WEBP, GIF), videos (MP4, 3GPP), audios (MP3, OGG, MP4, ACC) and documents (PDF, PPT, PPTX, DOCX, DOC, ZIP, RAR).
What kind of subscription model in SentWA?
SentWA subscription model is an account-based subscription. This means all of your WhatsApp numbers will remain active as long your account has an active subscription.
What payment methods do you accept?
We accept paypal for international users and bank transfer, qris, e-wallet (OVO, Dana) for Indonesian users.
What if i pay late until the subscription expired?
Your service will be terminated and you need to renew it. Please note all instances will delete once the service is terminated.
Can i request a refund after subscribed?
Unfortunately we don't provide refund requests. You can register and get 3 full-day trial to ensure the service suits your need.
I still have another question. Where can I ask?
You can click on the floating WhatsApp widget on this site to connect with our customer support.

MASAJID
Digital Signage
SentWA really helps us to promote our products via WhatsApp with broadcast messages feature. All messages are sent without getting banned. We also use it for order notification on our store. Thank you for your incredible services!

ThemeFood
Digital Product
I've been using similar service for years but my number got disconnected really often until I found SentWA and their service are better. Even I can send messages while my phone offline. There is no undelivered message anymore. Thanks...

MuslimBox
Electronic Store
I feel blessed for subscribing to SentWA. It is way cheaper than others but has 2 basic features I need, sends notification and broadcast messages. No need to subscribe to multiple services, just one SentWA for all of my needs. Great job.